Why is Hotstar winning in the Indian OTT market?
Hi everybody🙋🏻‍♂️,
Welcome to
Rise & Shine☀ – Sunday Edition,
Every Sunday, an email will arrive in your inbox detailing a specific topic to help you understand it better.
---
Hotstar has become the leading platform for video streaming among streamers. It has been found in a study that Hotstar is at the top of the list of top entertainment apps and received 49% of the shares, while Jio TV got 30%, Netflix got 13%, and Amazon has 15% of the shares. This percentage says it all.
The youth of India are becoming more attracted to OTT platforms. About 89% of users between the ages of 16 and 35 are interested in OTT platforms for video streaming. This data contributes to the overall marketing of OTT. Hotstar is aimed at people in India and has many language options, including English, Hindi, and a few other local languages.
Hotstar: India's Most Popular OTT Platform
About 79% of Indian users who have a smartphone have also downloaded an OTT app. In a survey, it was found that four out of every five smartphone users have an OTT platform installed. Hotstar is the most popular and widely used OTT platform in India. About 49% of users who use smartphones have installed Hotstar.
Hotstar's meteoric rise can be directly attributed to its coverage of major sporting events. When it comes to watching cricket, Indian viewers favor Hotstar. Web series, domestic TV channels, and shows also play a very important role in the popularity of Hotstar.
What makes Hotstar special?
The main reasons for the popularity of Hotstar are its content and affordability. It provides Indian shows, domestic TV content, web series, and sports content.
Some reasons for the popularity of Hotstar in India –
● Smart Search – The smart search of Hotstar makes it more user-friendly. It is accurate and provides suggestions as soon as you start typing in the search bar.
● Video Playback – The best quality content is played automatically to ensure the continuity of entertainment for the user without interruption.
● Extraordinary Content – The content provided by Hotstar is the main reason for its popularity. It provides various original content, which is the most popular amongst Indian users.
● User-friendly Interface – The interface of this platform is user-friendly and can be easily accessed to stream their favorite content.
● Content Catalog – Hotstar has something for every user. It provides sports content, Indian TV content, movies, and content from all over the world. In addition, there is targeted content for kids as well.
● Accessibility – Hotstar can be accessed by any smart device like Android, iOS, and Smart TVs.
Hotstar's greatest strength is its sports streamers.
You may be well acquainted with how Indians are crazy about cricket matches and other sports. Hotstar provides all the national and international matches, either live or repeated telecast. It is the one solution for all sports streaming, whether you are an IPL fan and want to stream international cricket matches, any Asian games, hockey, badminton matches, wrestling, Gulf, football matches, and so on from anywhere and everywhere.
You just need to have a good internet connection, a smart device, and premium membership. Yes, you need a paid membership to see all of this, or you can try it out for free first. Various sports-dedicated channels are available in different languages. Most of the male users and even females on Hotstar focus on sports streaming.
Best Hotstar Channel List –
● Star Sports 1
● Star Sports 2
● Star Sports First
● Star Sports Hindi 1
However, there are various other channels for sports on Hotstar, but these are the most popular ones. These channels can be accessed from India as well as the U.S.
Web Series: The Game Changer
The game changer for OTT platforms, "web series", brings a lot more traffic on Hotstar. Web series are the most widely streamed content on OTT platforms. Youngsters love streaming different genres of web series. When it comes to Hotstar, has provided users with some of the most popular and interesting web series of every genre and the best quality. The Web series has gained a lot of users on Hotstar.
Not only Indian web series, but international web series is also available on this platform for streaming. Language selection is also available to stream according to user preference. Even so, the user can choose the quality of the video and the genre of the series. One can search the series according to the genre.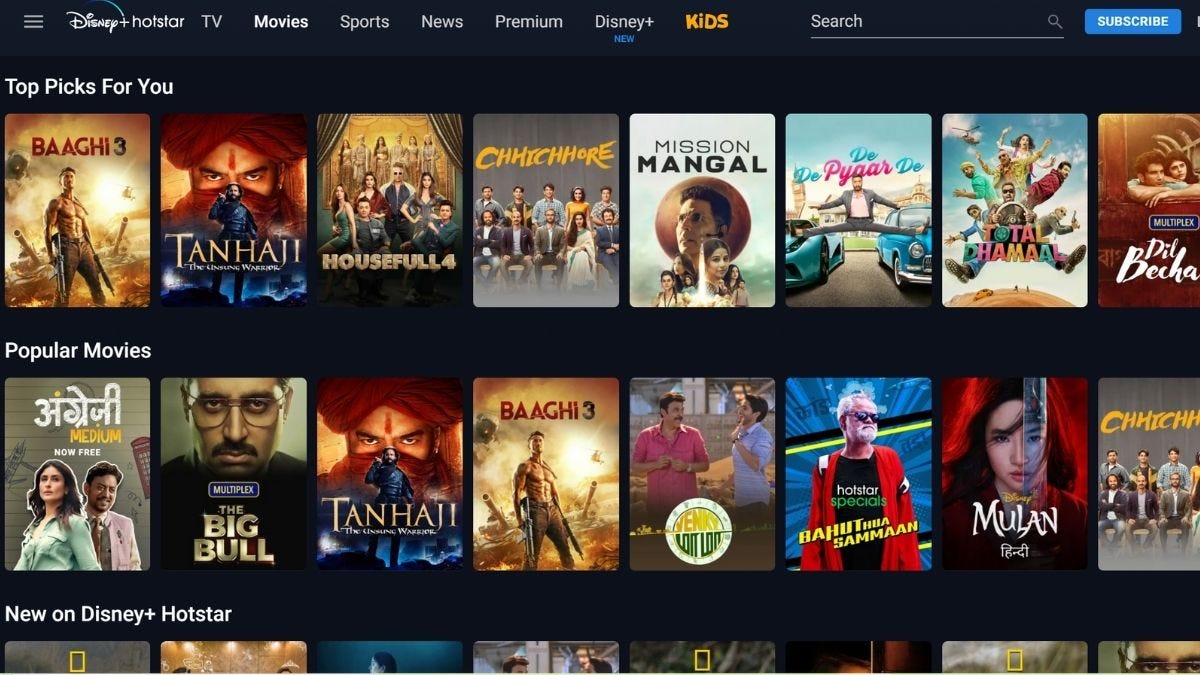 Some most popular Indian web series on Hotstar are –
● Aarya
● Sarabhai Vs Sarabhai
● Criminal Justice
● Special OPS
● Hostages
Some most popular international web series on Hotstar are –
● The Mandalorian
● How I Met Your Mother
● Silicon Valley
● House of Dragon
● Moon Knight
Indian Women also Bring Valuable Traffic to the Hotstar
All the star channels, such as Star Plus, Star Utsav, Star Bharat, Star Pravah, and some other regional star channels. All the content from these channels can be streamed live or repeated on Hotstar. Indian women love daily soaps like Saath Nibhana Saathiya, Maan ki awaaz Pratigya, Yeh Rishta kya kehlata hai, Kya Haal, Mr. Paanchal? and so on.
Most women who are smartphone users rely on these OTT platforms for streaming purposes. Hotstar is the most popular among them. Star channels, which can all be watched on Hotstar, also show a variety of reality shows. This also attracts traffic, which is mostly women and young people.
These users have a greater chance to buy a Hotstar subscription to keep updated with their favorite shows and to stream them live without having to wait. More paid subscribers mean more popularity for the platform.
Conclusion
Disney's On-Demand Streaming Service Hotstar has surpassed competitors like Netflix, Amazon Prime Video, Zee5, Sony Liv, and others to become India's most popular video streaming platform. Even though the app used to be called Hotstar, it now has an exclusive deal with Disney's streaming service, Disney Plus, which means it now has a library of very popular international shows and movies. This category includes the Marvel Cinematic Universe, the superhero films of Pixar, and others.
Don't forget to share this article on Twitter and WhatsApp.
---
Thanks for reading🤗
You can forward this mail or share it on social media. It will help us reach more curious readers.
We are coming up with much exciting content in the coming days.
Stay connected on our socials Instagram, Twitter, and LinkedIn for updates.
About Post Author