Agriculture is the backbone of the Indian economy. The livelihoods of nearly 60% to 65% of people in our country depend on agriculture. Farming is not an easy job. A lot of physical and mental work is involved in this activity.
We at 'Krishi Udaan' aim towards the betterment of farmers. Along with the sale of drones, we also provide spraying solutions in farming.
Climate change is one of the major problems in today's world. Extreme climates like hot summers and chilling winters, along with extreme rainfalls result in imbalanced farming, which affects cultivation. The conventional spraying method could be less efficient because of these climate change factors.
However, 'Krishi Udaan' has come up with a proven solution for spraying which is more efficient and easy as compared to the conventional spraying method. Our method of spraying gives a uniform pattern of spraying pesticides by reducing the time by getting more accuracy in the results.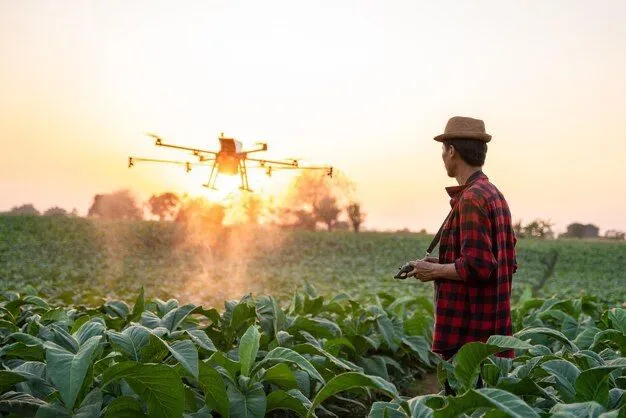 Health issues have always been prominent in the spraying industry. Farmers suffer from innumerable health issues because of the manual activity of spraying pesticides and chemicals. Diarrhea, vomiting, dizziness, irritation, nausea, and eye infections are some of the immediate effects of conventional spraying. It could also result in long-term effects like chest pain, memory loss, concentration difficulties, blindness, and back pain. But, by using our methods, farmers can avoid direct contact with fertilizers and harmful chemicals, since the entire process is carried out by drones.
Time is often considered a more valuable asset than money. Keeping this factor in consideration, it gives us immense pleasure in stating that our process is time efficient. A large area could be covered in very little time through drones. It also reduces the overall cost as compared to manual spraying, since the cost for laborers and other equipment gets eliminated. There's no wastage of chemicals and pesticides resulting in proper usage of pesticides. Drones proved to be more accurate and suitable for spraying as compared to the manual method of spraying. Control and monitoring of the process become very easy because of the technology used in drones.
Farmers have always taken care of people by working hard days and nights. Farming is one of the toughest jobs in the world. It could also be considered a selfless deed. Now the time has come for us to take care of this community by providing them with solutions to avoid adverse effects on their health. Remember, farmers are an asset to any country. 'Krishi Udaan' aims to protect these assets by taking care of their health and making their lives a little easier.
About Post Author